One of the most famous and popular recreational activities in the world is gambling. Human beings have been toying with games of chance for centuries and the culture spread across the world. This gambling phenomenon has not left South Africa out. Today, after many revolutionary changes, South African casino games are still a favourite, and there is no sign of this changing. At South African Gambling Internet Site, we provide you with a comprehensive review of South African Online Casino Games and gambling to get you in tune with all things fun. The best thing about playing casino games at an online casino is that you can play from the comfort of your home provided you are connected to the internet. Online Gambling has proved to be very profitable for many South African players.
Top South African Online Casinos
Casino Games History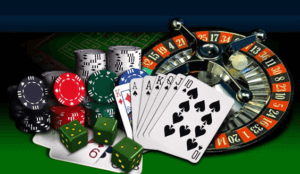 Casino games have a long and rich history. The fact that each one has its own roots adds more to the dynamics of the story behind casino gambling.
Craps
The game of craps is believed to have originated from an old game known as Hazard, which means 'dice.' Hazard's history goes back to the 12th century among the English and became popular sometime in the 17th century. It had complex playing rules which lead to the creation of a simpler version, Crapaud, Craps' former name.  Crapaud is a French word that means 'toad,' and the game is named so because it was played by men crouched in a toad-like manner around the dice. Craps then made its way around the world, gaining popularity even through World War II, and has remained a popular gambling name to this day. Read more here.
Baccarat
Baccarat is one of the world's oldest Casino Games. Though it's very beginning is sketchy, Baccarat was first documented in the 1400s in France through Italy. The word baccarat means 'zero' in Italian, referring to the fact that in the game, all kings, queens, jacks and tens have a value of zero. Just as well, when a player lands a hand valued at zero, it is called 'baccarat.' As the game grew more popular, it got revised into many versions and thus assumed different names. In England, it was known as Punto Banco, which became even more popular and found its way to the US and spread to the rest of the world. Read more here.
Roulette
Roulette is said to have been invented by a physicist and mathematician named Blaise Pascal. His invention was not meant to be a casino game; instead, he was going for the machine that can operate continuously without using external sources of energy. His failed invention gave birth to the roulette wheel. Roulette remained unchanged until 1842 when the number zero was introduced to it. This was done by Francois and Blanc who designed the roulette game for King Charles, adding a single zero to the wheel. This increased the house edge. Sometime later, the Americans added their own zero as well, except they made it a double-zero. Read more here.
Blackjack
The origins of blackjack are still unknown, but it is believed that the game has been around since the 17th century, maybe even before. Though today the game is called both blackjack and twenty-one, history teaches us that twenty-one was actually a game of its own and it preceded blackjack. Twenty-one's first known recordings are from an early 1600s old Spanish story by Miguel de Cervantes. He wrote of the game's rules within the story. Twenty-one was then adopted from this story by the American and other nations, and a rule was added that a player needs to have a hand with a blackjack and an ace of spades to win. This was how the name 'blackjack' came to be. Read more here.
Slot Games
Slots are believed to have begun when the Liberty Bell slot machine was invented in the 1800s, by Charles Fey. It is said that before Frey however, two gentlemen, Sittman and Pitt had invented the similar machine. Frey's version was a simpler remake of Sittman and Pitt's machine. It also had more features and was automated. One of the features was a liberty bell, which is where the name of the game came from. This game grew very popular, being adopted and adapted by many manufacturers until another manufacturer came along and introduced the fruit and bar themes. In 1963, slots were created with an auto-mechanical engine following the first of that kind, Money Honey. Electronic slots followed, which brought about colour screens and logic boards. Read more here.
Other Top South African Casino Games include:
How to Play Top South African Casino Games
Blackjack gameplay
Blackjack is a card table game where the player's cards are compared to those of the dealer. The aim of the game is to be the first one to achieve a hand with a total value of 21 and no more. The player can also win by having a higher hand value than the dealer without exceeding 21. Blackjack is also available in Live Dealer Blackjack online.
Roulette gameplay
Roulette is a casino game featuring a rotating wheel and a small ball as the main components. The wheel is divided into sections, each section is allocated a number between 0, 00, and 1 through 36, and are coloured either black or red (except the 0 section which is usually green). Roulette is played by launching the small ball into the spinning wheel, and the player must guess and bet on which number or colour the ball will land on. They may bet on a specific number, or be broad like betting on either red or black, even or odd. Depending on whether the ball actually lands there, the player may win or lose.
Craps Gameplay
Craps is a two-dice table game in which the player bets on the outcome of both dice. If the dice roll is a total of 7 or 11, it is a win, if however, they roll a total of 2, 3 or 12 it is a loss. So the player can bet on whether the shooter will roll a 'win' or a 'lose,' a specific total value outcome, even or odd or a value range.
Baccarat gameplay
Baccarat is played with six decks of cards, and the game is between the player and dealer/banker. Each one is dealt a hand, one card at a time starting with the player. To win, the player bets on the outcome of their hands. The aim is to reach a total of 9 or as close as possible to it. Regarding the cards, 2 through to 9 hold their face value, while aces count as one and tens count as zero. As a gambler, you can bet on either of three outcomes; the player winning, the banker winning or a tie between the two.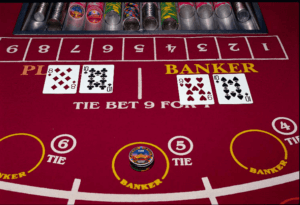 Slots Gameplay
Slots are very easy to play. They are made of 3 or 5 reels and paylines. The objective is to spin the reels and land a sequence of symbols that make up a winning combination. If this happens, the player gets a payout. To start playing the player needs to set their bet amount and the number of paylines they wish to play on. Then a simple click of the 'spin reels' will get the game started. All the reels will begin spinning and soon come to a stop, displaying icon/symbols across the reels and showing which paylines the player stroke.
Top Performing Online Slots – Casino Games South Africa
Online Slots have become hugely popular in South Africa and around the world. They are one of the most played top South African Online Casino Games today. Here are some of the top performing and most favoured online slots in South Africa.
 Avalon: has 5 reels and 20 paylines, plus exciting features like Scatter symbols, a Free Spins Bonus Game, and Gamble Bonus Game.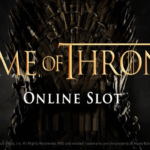 Game of Thrones™: is named and themed after the currently popular HBO® TV series, Game of Thrones. The slot is a 5X3 reel game with 15 or 243 ways to win. It has features like the much-adored Free Spins, Scatter symbol, multipliers and the Gable Trail.
 Gold Factory: has 5 reels, 50 paylines and a theme around gold treasure hunt with an interesting inventor. It has beautiful icons like the gold train, the golden factory, a wooden cart filled with gold, gold coins, gold bars, a gold submarine, the gold mine owner/inventor.
 Hitman: is a 5-Reel and 15-Payline slot with a theme from the blockbuster series, Hitman. It has a Wilds Symbol, a Scatter, and two Bonus symbols.
 Immortal Romance: this slot is themed around a love triangle between three vampires. It has 5 reels and 243 ways to win and a jackpot of 60 000 coins. Features include the Wild Desire, The Chamber of Spins, Scatter symbols.
 Mega Moolah: is known as the worlds' 'Millionaire Maker.' It is a progressive slot game which means as long as players are betting on it, the jackpot will keep growing and growing, often into millions of dollars, until someone wins it.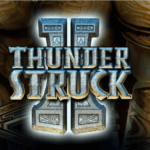 Thunderstruck II: is the sequel to the first slot of its kind, Thunderstruck. It has features like Free Spins, The Great Hall of Spins, the Wildstorm feature, Bonus hummer symbols, and many other bonus symbols within bonus games.
Variety of Online Roulette Casino Games in SA
The game of Roulette comes in a few varieties, which offer a diversified gameplay for gamers. You can pick and choose whichever version you wish to play, either way, you will still get the same level of thrilling fun and stand to win good payouts. The varieties include European Roulette, French Roulette, and Multi-wheel Roulette.
Best Blackjack Online Casino Games in South Africa
Just like Roulette, Blackjack has several versions, but the basic game is the same across all of them. These versions are a result of the many times that Blackjack has gone through transitions across the world as it was gaining popularity. Blackjack versions include European Blackjack, Classic Blackjack Gold, Gold Bonus Blackjack, and Atlantic City Blackjack.
How to Find the Best South African Online Casino Games
When the time has come to find the best South African Casino Games that are best suited to you, it will be worth your while to consider the following, critical aspects:
Casino safety and security
Before you even assess the Casino Games offered by a South African Online Casinos, first look at the SA casino itself. Is this establishment licensed? Does it have certificates of approval and is it regularly checked for gambling rules adherence? To determine this, visit the website of each South African Online Casino that you wish to play at and check for information about these. An SA casino that has nothing to hide will display and disclose its license details like where, when and by which online gaming control board it was issued.
Fairness of Casino Games
It is natural to be worried about the fairness of the Casino Games, even an online one, and you should. After all, you will be putting your trust on the said SA Casino with your money and your entertainment. Reputable Online Casinos in South Africa use Random Number Generators to determine the outcome of their Casino Games. RNGs keep games fair and unpredictable by building outcomes haphazardly. Such games cannot be rigged or cheated.
Casino Game Collection and Quality
There would be nothing as disappointing as signing up to a South African casino only to find out it has a limited collection of games for you to play. Any top Online Casino in SA has a vast array of the best South African Casino Games to choose from including table games to online slots. Just as important is the quality of the Casino Games. Check if the Casino Games are sourced from any of the industry leaders in online gaming software development. Examples are Microgaming™, NetEnt™, Evolution Gaming™ and PlayTech™ among many.
Casino Games Welcome Bonus
one of the things cherished in Online Casinos in South Africa are the welcome bonuses they offer. Online casinos generally compete on this aspect; with each one trying to outdo the next. This is good news for you of course. But always check the wagering requirements attached to these bonuses. The biggest bonus might not be the most valuable for you.
Casino Games Banking methods
playing Casino Games, especially as a Real Money Player, requires you to deposit funds into your casino account so that you can place bets. And if you win, you should also be able to make withdrawals without hassle. So it goes without saying that you should pick an Online gaming site in South Africa that provides you with a wide variety of safe and convenient banking options. In SA, you should be able to make deposits and withdrawals using methods such as Credit and debit cards and e-wallets.
Casino Games Player Support
Last but not least, it is very crucial that a casino is able to render personal support to all its South African players. The best casinos in SA will have a call centre that is available 24/7 and can be contacted by phone, email and maybe even instant messages.
Tips and Tricks for Casino Games
Players often wonder if there are ways to improve their odds and hopefully have higher winning potential. However, gambling is an activity based on chance. This means there isn't much you can do to fiddle with the odds of the games; all you can do is hope for luck to be on your side. That being said, there are things you can keep in mind or do to improve your gameplay and the entire experience at a South African Online Casino. Some of them are discussed below:
If you are a first-time player, it's recommended that you start with the free games that the online gaming site offers. You will get enough practice and understand the games better before you start betting with your money.
Have a bankroll strategy. Decide how much you will be betting, on which game you will be betting that money and how long you will be playing. This will help you avoid overspending and chasing losses.
Make use of those bonuses and promotions. They will help you stretch out your bankroll and give you more play time.
Take a little time to read through the South African online casino's terms and conditions. Wagering/play through requirements will help you decide if the bonuses offered are worth claiming.
With each game you play, get familiar with its odds. Rather be an educated gambler than not understand what you are getting yourself into.
Play progressive jackpot games. They have massive winnings and can be more than worth your while. Keep a close eye on the jackpot and play when it has grown more massive than usual.
FAQs – Online Casino Games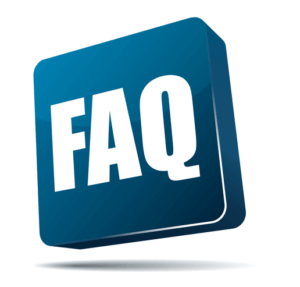 Glossary – Online Casino Games
Glossary for Blackjack
Blackjack: an instance where a player has achieved a total of 21 points on their first two-card hand.
Bust: refers to when a player has surpassed a total hand value of 21.
Cut: a name given when the card deck is split before being dealt.
Discard Tray: the space used for placing all cards that have been played or discarded.
Double Down: to take one extra card immediately after viewing your first hand
Draw: to draw is to add a new card to the cards on your hand
Early Surrender: a type of surrender that is allowed before the dealer checks his cards for a blackjack
Hard Hand: a hand that does not have an ace card
Hole Card: a dealer's card that has been dealt face-down
Insurance: a side bet made in case the dealer has a natural hand
Late Surrender: a type of surrender that's permitted only if the dealer's hand is not a blackjack
Natural: a hand of two cards with a value of 21 points.
Push: refers to when the player and the dealer have tied
Shoe: a card holder and dispenser
Soft Hand: a hand with an ace card in it
Stiff Hand: a hand that is likely to bust after the next hit
Surrender: refers to giving up your hand. Player loses half their bet
Upcard: a dealer's card that has been dealt face-up
Glossary for Craps
Any Craps: an insurance single-roll bet that a 2, 3, or 12 will be rolled next. It pays out 7:1
Any Seven: a single-roll bet that a 7 will be rolled next. It pays out 4:1.
Big 6: a bet on 6 being rolled next. It pays out 1:1.
Big 8: a bet on 8 being rolled next. It pays out 1:1
Box Numbers: also known as Point Numbers; 4, 5, 6, 8, 9, and 10
Come Bet: a bet made after the come out roll that wins if 7 or 11 are rolled
Come Out Roll: the very first roll in a craps game round
Crap: slang word referring to the numbers 2, 3, and 12
Don't Come Bet: a bet made after the come out roll that wins if 2, 3 or 12 are rolled
Don't Pass Bet: a bet placed during the come out roll – it wins on a roll of 2 or 3
Hardway Bet: a bet on pairs being rolled before non-pairs. Payouts differ
Inside: slang name for numbers 5, 6, 8, and 9
Line Bet: a wager made on the pass line
Little Joe: slang word referring to the number 4
Outside: slang word referring to numbers 4, 5, 9, and 10
Pass Line bet: a bet placed on the shooter to roll a 7 or 11 on the come out roll. It pays out 1:1
Point: a number (4, 5, 6, 8, 9, or 10) established during a come out roll
Snake Eyes: slang word referring to a roll of 2
Stickman: a casino employee that controls the dice and calls out the numbers
Glossary for Slots
Bonus Game: an extra or sub-game within a slots game that offers prizes like Free Spins
Credit: name for a betting unit, also called coin
Hit: slang word for landing a winning combination
Jackpot: the main payout of a slots game
Max Bet: the largest amount a player can wager per spin
Multi-line Game: a slots game with more than one payline
Multiplier: a slots feature that multiplies the payout by a certain amount
Pay Line: a line (imaginary) in which symbols must land in order to win payouts
Pay Table: the displayed payouts given on every winning combination
Progressive Jackpot: a continuously growing jackpot. Each wager pays a portion into the jackpot
Reels: rotating panels with symbols on them
Scatter Symbol: a special symbol that can appear anywhere but still payout or trigger a bonus
Wild Symbol:  a symbol that substitutes other symbols to create a winning combination
Glossary for Roulette
American Roulette:  a Roulette game with 38 sections on the wheel, numbered 1 to 36, 0 and 00
Column Bet:  a bet placed on one of three roulette wheel columns. It pays out 2:1
Corner Bet: a bet placed on the cross path between and covering 4 numbers. It pays out 8:1
Dozens Bet: a bet placed on any group of twelve numbers. It pays out 2:1
En Prison: a surrender rule in European Roulette so that they only half their bet if they don't win
European Roulette: a Roulette game with 37 sections, numbered 1 to 36, and a 0
Five-Number Bet: a bet placed on 0, 00, 1, 2, and 3. It pays out 6:1
Inside Bet: a bet placed on or between numbers inside the layout boxes
Outside Bet: a bet placed with even money (that is, red/black, odd/even, high/low, and pays 1:1
Street Bet: a bet on one of a specific set of three numbers. It pays out 11:1
Glossary for Sports Betting
Across the Board: a bet placed on the horse's win, show, or place
(ATS) Against the Spread: a sport betting result that includes the point spread
Buy Points: when a player pays extra for half a point or more in their favour on a point spread game
Chalk: the favoured player, athlete, team, or horse
Cover: to win enough points to beat the point spread
Dog: slang word for "underdog" in the game
Exposure:  the money that a bettor or sportsbook might lose on a game or games
Favourite: the player, athlete, team or horse that is expected to win
Future: a bet placed on an outcome of a game that is yet to happen in the distant
Half Time Bet: a bet placed on the second half of the game's outcome
Hedging: is when a player bets on both sides to guarantee themselves a profit or cut down losses
Hook: half of a point
Juice: the commission earned by the sportsbook from wagers
Lines: odds
Moneyline: a bet for the player, team, etc. to win straight out without a point spread
Over/Under: a bet placed on the total of points earned by both teams being over or under a specified amount
Point spread: a head start in the underdog's favour to even out the betting
Push: is when neither side of the betting opposition win the bet
Straight Bet: a bet placed on only one team, player, athlete or horse