Scratch card games are a classic South African favourite as it provides players with the chance to win instantly. Online scratch cards now make it even easier for SA gamblers to win big in 2016. Read our article on scratch cards to find out how you can be a winner too.
Elite Online Casinos for South Africans
Scratch Card Games History in South Africa
Scratch cards were first developed by John Koza and Daniel Bower in 1974 in Massachusetts. These cards were then used by the Massachusetts State Lottery to raise funds for government projects. The popularity of these scratch cards spread to the rest of America and in 1985 a man named Cal Tigner invented the first scratch card dispenser in Oregon. In 1995 scratch cards became a regular addition to the National UK Lottery, and were then introduced to South Africa and online.
Playing Scratch Card Games in 2016
With online scratch cards, players do not have to worry about strategy and rules or going out to buy or redeem their prizes. Scratch cards are simple and easy to play and are a great addition and alternate to the traditional South African lottery. South African players will recognise using a coin to scratch away at the card to reveal possible winnings. Now this action is made all that easier and revealing your win is just a few clicks away. The aim of the scratch card game is to get three matching symbols in a row. The game is played on a 3×3 grid with nine tiles in total. Players begin by placing their wagers. This is done by clicking the plus or minus buttons to increase or decrease their bet. Once players have clicked the 'new scratch card' button, players can then choose to scratch away at the card using the mouse or choose to reveal the matches all at once. If you have three matches, you win a multiple of your original bet. Unlike most online casino games, scratch cards do not have a list of set rules which is one of the reasons why it is so popular.
Scratch Card Game Variations in 2016
All scratch card games follow the same procedure and will only differ on themes. Like slot games, also known as pokies in other parts of the world, scratch card games are available in a wide variety of exciting and unique themes with everything from under the sea, sports and fantasy, to the latest movie releases. These themes have different symbols and bet sizes so make sure you understand what you need to make a winning combination before placing your bet. These variations are supported by top software providers such as Playtech and Microgaming so you can look forward to great graphics and user-friendly gameplay.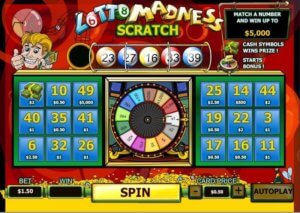 Lotto Madness Scratch Cards
Lotto Madness is the most popular scratch card game variation in SA and is a great game for South African players looking for something extra, as the game includes a bonus feature that gives players a chance to win more prizes. The game is played on a standard 3×3 grid with nine tiles; however, this variation allows you to play up to three cards at once. As the name suggests, Lotto Madness takes on the traditional lotto theme as the symbols in the grid are replaced by numbers. These numbers are displayed in lotto balls on top of the grid. If the numbers on the balls match the number on the grid, you win the amount indicated at the bottom of the number. If a wheel of fortune symbol appears on the grid, you will be given a chance to spin the wheel and will be awarded a specific multiplier value that will increase your winnings.
Scratch Card Game Tips for South African Players
Although scratch card games are based on luck there are a few things you can do to ensure that you get the best out of every game.
Although scratch cards have a standard game structure, some variations may have different gameplay rules. It is important that you read and understand these rules, so you know exactly what you need to win.
Always make sure that the online casino is licensed by a reputable regulating authority, this ensures that you will have access to fair and secure gameplay.
Check that the online casino offers a variety of safe and secure banking methods, so all you have to worry about is winning.
Practice scratch card games in free play mode before playing for real money as this will help you to get used to the format of the game.
Scratch card games are quick and easy to play, which is why it is important to set up a bankroll before you begin, so you do not end up spending more than you wanted to.
If you plan to spend a while on the game, start off betting low as this will help you to stick to your bankroll and will allow you to play longer.
Playing scratch card games online gives you the ability to control your winnings as you have the option to choose how much or how little you want to bet.

Why Play Scratch Card Games in 2016
Scratch card games are a simple and fun way for South African players to win big bucks. Unlike table games such as Blackjack or Craps, players do not have to memorise a list of rules, betting options and strategies to play. Scratch card games are great for players of all levels and gives you the chance to sit back, relax and reap the rewards.
Frequently Asked Questions About Scratch Cards in South Africa