Table Games originate from ancient games of chance adapted from cultures all over the world. They have been played for many centuries, some of them from the dusty ground, to the streets, then underground gambling shops, and now they are in big fancy casinos in and outside South Africa. Today, not only will you find them in SA land-based casinos, but you also find them on
online casino sites
in South Africa.
Best Online Casinos to Play Table Games
Table Games History
Table Games are of various types like Baccarat, Roulette, Blackjack and Craps. Each one has its own rich story of origin and growth. But all of them have captured the hearts of many thanks to their thrilling unpredictability and allure of winning something. It is no surprise that these exciting games remained in the human culture for many years, piquing the interest of other nationals and being absorbed into more cultures over time.
For example, Roulette is believed to come from France, having been 'accidentally' invented around the 17th century. The inventor, Blaise Pascal, originally meant to make perpetual motion machine, what resulted was a basic form of roulette. A decade later the machine had been adopted into today's game as we know it. Currently, players have the pleasure of playing it just about anywhere in the world, including South African casinos.
Blackjack, on the other hand, is believed to have Spanish origins, beginning as a game in a storybook by Miguel de Cervantes in 1601. Some believe the game was already in existence when he wrote the story; others believe he created the game in the book since the story explained the game down to the last rule. Other games like Keno and Craps started off being played with small stones and tiles on the streets.
How Table Games Differ From Other Casino Games
As the name states, Table Games are typically played on a casino table-like platform, unlike other casino games that are played, for example, on machines like Slots. Table Games also have game assistants, like dealers or croupiers, shooters, and callers. These people help with the gameplay by shuffling and dealing the cards, playing against the players, spinning the roulette wheel or rolling the dice.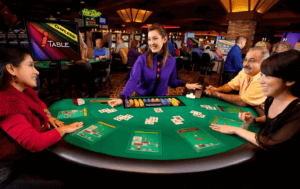 Online Table Games have the same characteristics, except everything about them is virtual, and they are played only through a computer over the internet. They have virtual dealers, shooter, and callers, but in the case of Live Table Games, which are played through a live streaming video, have real life people assisting just as at any land-based casino in South Africa.
Best Table Games in SA
Interested in knowing about South Africa's best Casino Table Games? Below is a list of the most favoured and played Online Table Games. To know more about them, click on each game and you will find a world of information on their history, game rules, tips and strategies and more.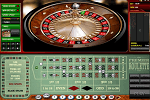 Online Table Games – Bonuses for SA players
One of the greatest things about playing casino games online is that you get to enjoy truckloads of bonuses. The South African online gaming site itself will offer players welcome bonuses, but beyond that, the online gaming journey is full of bonuses and rewards. Although bonuses are more popular on Online Slots, some casinos in SA may offer promotional bonuses on table games, giving you the chance to play for longer at no extra cost. These may include no-deposit bonuses and match deposit bonuses.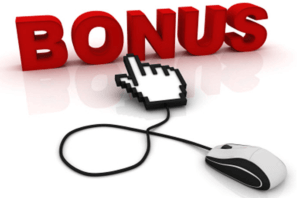 Table Games Playing Tips and Strategies
Table Games are mostly dependent on luck or chance. This means they are not really games of skill. However, having good experience may give you an added advantage. Some games like blackjack have a low house advantage, though, thus making them more prone to succumbing to a player with an ace up his sleeve, so to speak.
For such a game, you can explore the strategies provided on the casino site. Each game will have a guide on to play it best and what strategies you can use. For example, Table Games can be tackled with the assistance of Basic Strategy calculators and Strategy Cards.
Strategy Calculators
Basic Strategy calculators: these tools determine possible outcomes of the game you are playing given the type and properties of that game. For instance, a Roulette calculator shows the possible outcome of the next Roulette wheel spin, and the Blackjack strategy calculator predicts all possible hand outcomes for both the player and the dealer.
Strategy Cards: strategy cards display what the calculator has determined or predicted. For instance, the Blackjack strategy card plots the outcomes on a grid and shows what moves would be best for the player to make in each situation.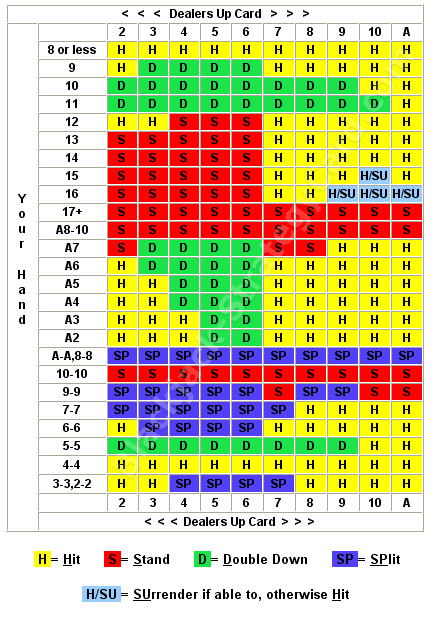 Table Game Tips
Besides these tools, it is possible to improve your gameplay, making it more enjoyable and worthwhile whatever the outcome, by doing the following:
Know the game before you play it: make sure you have experience with the table game you wish to bet on before you play it. Experience will give you more confidence to play, and you may end up developing an eye for certain moves. If you haven't played the game yet, try it out a few times on the free casino until you gain confidence. Online gaming sites offer free casino games like roulette, blackjack, baccarat and so on.
Consider the odds of the game: along with knowing how to play the table game, you should find out what its odds and house edge is. This way you know what your chances of winning are and if they are fair enough for your liking.
Set a strict budget: in an effort to stretch out your bankroll and playtime, you should have a good strategy for how you will be spending your money at the South African casino, and on which table games. For instance, you should split your funds equally between two or more table games, say Baccarat and Blackjack, instead of spending it all on one. This will spread out your winning chance and likely reduce losses.
Set a time limit: also very important, set a time limit for how long you will be playing the table game(s) for the day. You could decide on playing each game for an hour only. This will prevent you from getting carried away in gameplay, which may lead to overspending.
On top of knowing your game well and planning a good bankroll strategy, it is imperative that you make sure that the casino you are playing at is legitimate and trustworthy. Look for the South African online casino's license and regulation details. The online gaming site should be licensed under the correct and recognised jurisdiction and regulated by the appropriate regulatory board.
Table Games – Glossary
Baccarat – a classic casino game in which the player aims to have the highest face value of cards in his hand. This table game is played with four, six or eight cards decks. Variants of Baccarat include Punto Banco, Chemmy, and Baccarat Banque.
Banco – refers to the Bank or House in a game of Baccarat
Bankroll – the cash amount that a player has for wagering
Betting limits – these are the most and least amount of money a player is allowed to wager per bet line
Blackjack – a classic casino table game in which the player's objective is to have a hand value of 21, but not exceeding 21 before the dealer does.
Bust – a bust is when a player's hand dealt to him exceeds the value of 21 in Blackjack
Chase – a term referring to when a player plays with the desperate goal of winning back what they have lost in the game
Craps – a classic casino table game played by betting on the outcome of two rolled dice
Croupier – a person who's job in the casino is to operate and assist on a table game. A croupier is known as a 'dealer' if they are also dealing cards in the game
Face Cards – is a name for cards that have faces printed on them like Jacks, Queens, and Kings
Hit – a Blackjack term referring to when a player calls for an additional card from the dealer. 'hit' is also the name of the requested card
House Edge – the long term advantage a casino has over players as a way of making profit
Roulette – a table game featuring a revolving wheeling with coloured and numbered sections, and a small ball. To win, the player needs to correctly guess where the ball will land on the sections of the spinning wheel
Shooter – a person who rolls the dice during a game of Craps
Standoff – a situation in a game of Baccarat when both hands (layer and dealer) show the same value